TECH TIP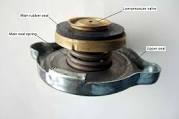 It may seem cold at the moment, but now is a good time to start preparing our cars for the coming months of increasing temperatures. The cooling system is a good place to start.
The poor ol' radiator cap is often forgotten and sometimes considered just a simple part of the cooling system. But it's not that simple and does a lot of work.
If one of your engine cooling hoses seems 'squashed' or flattened when the engine is cold, check the small centre valve on the underside of the radiator cap. This is the low pressure valve which allows air into the radiator as the water cools and contracts. It should be easily pulled down against its spring pressure with your finger and snap back. If all okay here, the hose in question is likely to be faulty and its structure breaking down.
Check the main rubber seal. It should be free from cracks and be flexible. The seal together with the main spring keeps the system pressurised. Any faults here and you will lose water and overheat. Also check the upper seal, which prevents water escaping past the radiator filler neck, particularly important if an expansion bottle is fitted. Remember, only remove the radiator cap when the engine is cold
Any doubts…fit new a new cap! 
Original posting by Paul

TECH TIPS
A torque wrench is an important part of any tool kit. Treat it with care and use it often. Manufactures don't list torque figures for nothing!
When you've finished, always 'unwind' the wrench returning it to zero. It will stay more accurate for longer, if you do!
When doing your under bonnet checks, cast a glance at the air vent in the master cylinder cap(s). The vent hole allows air in to replace falling fluid levels. If this becomes blocked a 'spongy' pedal will result.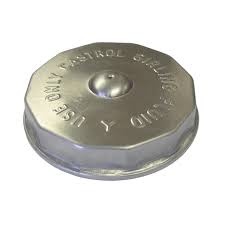 Some caps incorporate a rubber bladder, which limits air contact with the fluid, as the mineral based fluid absorbs water from the air (hydroscopic).
Original posting by Paul.
Why anti-freeze is an 'all year round thing'.
Anti-freeze does more than 'what is says on the tin'. It's an anti-corrosive too. Get it wrong and trouble is around the corner.
Traditional blue ethylene glycol is toxic but a highly effective antifreeze; it contains silicates as an inhibitor to help prevent corrosion in engines with mixed metals in their makeup. Bluecol and Blue Star are well known brand names, both are declared suitable for 'classic cars' on their company websites.
Propylene glycol is another well-known and less toxic antifreeze formula and usually contains silicates.
Recently, problems have been reported concerning the use of antifreeze mixtures using organic acid technology (OAT). OAT was introduced in the mid-1990s and the products are biodegradable, recyclable, do not contain either silicates or phosphates and are designed to be longer lasting. However, these products do seem to cause problems in older engines.
Over and above the ability of antifreeze to find the smallest crevice and leak, OAT antifreezes have been accused of destroying seals and gaskets and causing a great deal of damage in 'old' engines. For this reason, the manufacturers do not recommend their use in historic vehicles. These products are usually coloured red, pink or orange.
Another category is HOAT. These products use hybrid organic acid technology in an ethylene glycol base with some silicates in the formulation alongside the organic corrosion inhibitors. The product is usually coloured green and is not recommended for use in historic vehicles. FBHVC is still researching this problem but its current advice is:
Only use blue coloured IAT antifreeze in historic vehicles. Only use OAT products ('advanced' or 'long life' antifreeze) if the vehicle used it when new and if specifically directed by the vehicle's manufacturer
Never mix different types of antifreeze without thoroughly flushing out the system
The above article is courtesy of Federation of British Historic Vehicle Clubs (FBHVC).
See Classic Chat, November 2016 for more information.
Original posting by Paul.
Spanish Car Registration Plates & Historic Plates Subject to Change
Vehicle registration plates are the mandatory number plates used to display the registration mark of a vehicle, and have existed in Spain since 1900. Most motor vehicles which are used on public roads are required by law to display them. The government agency responsible for the registration and numbering of vehicles is the Directorate General of Traffic.
Colour plates
There are other plates with different background colours for trailers and the so-called "touristic plates", provisory plates that allow foreigners to use a vehicle bought in Spain before registering it in their country. The trailer plates begin with the prefix R signifying remolque, the Spanish word for trailer, caravan or literally "on tow". The tourist plates begin with the prefix P signifying provisional, usually issued to vehicles for export or until the registration process has been completed. They are sometimes seen on manufacturer's prototypes. An additional series exists for historic vehicles with the prefix H followed by four numbers and four letters, making a nine-digit plate which can be difficult to fit onto some historic vehicles. Mopeds and microcars with cylinders under 50 cc were not required to have a national plate and town and city administration tax them and issued their own yellow plates.
| | | |
| --- | --- | --- |
| Code | Signified as | Colour |
| C | Mopeds and microcars | Black on yellow |
| E | Agricultural | Red on white |
| H | Historical | Black on white |
| P | Provisional | White on green |
| R | Remolque | Black on red |
| S | Temporary plates | White on red |
| T | Tourist plates | Black on white |
| V | Vehicle dealers | White on red |
Historic Plates
Benefits
Exemption from road tax

ITV based on the characteristics of the vehicle. Inspection period adjusted for the age of the vehicle.

The ability to keep the vehicle as manufactured by applying exemptions (Control emissions, noise etc.)

Keep both the original registration and new Spanish plates.

Low cost Insurance.
Car Requirements
Cars that are 25 years old (From date of manufacture) Their components must be original (or as close as possible)]

NIE/DNI

Certificate of 'Empadronamiento.'

Money and lots of patience- (especially in August)
Limitations: – There are not limitations for a car registered after 40´s or 50´s. Some people think that historical plates may limit the use of a vehicle in Spain. That´s not correct. A classic or vintage car is limited only when it´s not able to be driven following traffic regulations. For example- "Imagine a vintage auto from the 20´s era with wood wheels and 50 kilometres per hour maximum speed. This kind of car is not ready to be driven in a highway, and if it hasn´t lights it´s not qualified to drive at night".
If your car meets any of these requirements you may request the following documentation:
1.The previous inspection in an official laboratory accredited by the competent engineer appointed from the Junta (de Andalucía-or equivalent)
Favourable resolution of the vehicle as historical documentation, issued by same relevant authority.

Technical inspection prior to registration at a vehicle inspection station of the province of domicile of the applicant.

And historic vehicle registration in the Provincial Traffic domiciled.