Our Mission:
 To provide a club environmtent, which supports its members in the restoration, preservation and use of classic cars.
Club History
The Club was formed in February 2008 by a group of classic car enthusiasts who wanted to use their classic cars as often as possible in what can only be described as ideal conditions for open top motoring.
From 2008 the club was based in Aguilas. However, in 2014 the decision was taken to hold monthly meetings in Huercal Overa, the location of which more suited the changing geographical spread of members.
A newsletter is posted on this web site for club members on a monthly basis, and contains details of forthcoming events and club news.
Monthly classic car runs around the local area, sometimes to far flung places are a feature of our event calendar. Sometimes the runs include an overnight stay or two, often joining with another club to promote friendship. This has enabled members to explore this part of Spain in a way they may never have done, even with a 'modern' car.
Member's cars include British, European and US vehicles of all types dating from the 50s to the 80s.  In general, they are maintained and in many cases, were restored by their owners.
While our common language is English our membership includes enthusiasts from the UK and mainland Europe.
As a rule we meet on the first Thursday of each month,  at Hotel Rural Miguel Rosi, junction 559 E15/A7,I understand Junction renumbered to 675 time 3.00pm, although some members arrive before the meeting for a chat and catch up and even a drink.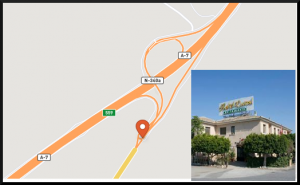 Location map for Hotel Rural Miguel Rosi
Huercal Overa
Membership fees
Initial membership: 40 euros, includes joining fee, one free club polo shirt, a windscreen sticker and a club pen.
Annual renewal subscription: 25 euros per year